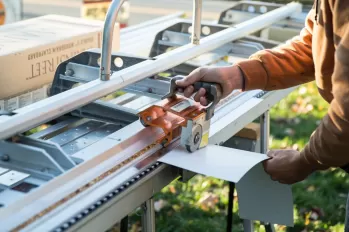 MR Roofing follows a well-developed process for re-roofing homes and other buildings. Our experience and carefulness combined with top-quality materials results in a great experience for you. We will answer all your questions respectfully and professionally. Here is what you can expect as you work with MR Roofing.
Your first interaction with MR Roofing will likely be filling out the contact form on this website or giving us a call. You choose.
If your project is a good fit for us, we will do a complete on-site inspection. Based on our evaluation, we will give you our best recommendation for a solution.
We will send your free estimate to review.
If you'd like to do business with us, you'll approve the estimate. We will schedule your job and give you an estimated completion date.
We'll start work by removing the old roof. Throughout the process we will protect your flower beds and keep the jobsite clean, using our Equipter Roofer's Buggy to catch and contain debris. If the project takes more than one day, before we leave for the night we'll make sure your roof is weather-tight and we'll tidy everything up.
The roofing project continues. Our experienced crews will transform the roof with a combination of speed, quality, and expertise that will surprise you. You are welcome to get to know each crew member on a first name basis.
Your completed roof will be great in both appearance and function, serving as a safe haven during all kinds of weather.