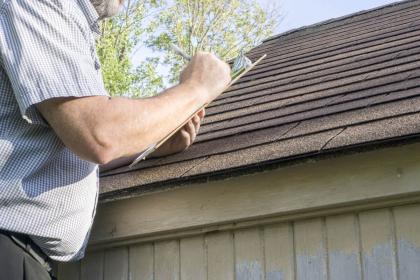 If you wonder what shape your roof is in, we can give you a definitive answer through an extensive roof inspection. We charge a flat rate to inspect your roof from ridge cap to gutters (this inspection is free with MR Roofing gutter cleaning service). Read on to find out more details on how you can make sure your roof is well taken care of.
When should I ask for a roof inspection?
The best time to get your roof inspected is before you need it! Once you notice a drip in the ceiling, it's too late—water has typically been soaking into the wood for months or even years. The roof will likely be beyond maintenance. Another time when people often request inspections is when buying or selling a home. It pays to know the quality of your roof. MR Roofing does roof inspections for storm insurance damage claims. It doesn't take a lot of maintenance to make your roof last longer. Proper maintenance now will prevent the need for expensive rotten wood repair later.
What roofing types do we inspect?
Asphalt Roofing
Copper Roofing
Metal Roofing
Rubber Roofing
Other
How does the inspection work?
We will set an appointment to come inspect your roof. We'll climb onto the roof and conduct an inspection of the entire roof, including the following areas:
Roof decking (the wood under the shingles or metal)
Edging (the drip area)
Deck protection (tar paper)
The roofing itself
Hip and ridge areas
Ventilation
Flashing
Chimney (cap, mortar, flue)
Skylights
Gutters
Vent pipes 
Please call us or email us to set up a roof inspection for this very important part of your home. Remember, if your roof is bad, your whole house will soon follow.
Media, PA
We found MR Roofing to be a step above other contractors. Definitely the best contractor I ever used.