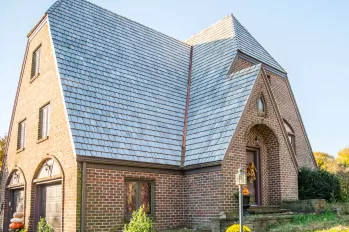 Who Is MR Roofing?
We prefer to talk roofs, but since you asked, we'll be happy to tell you more about ourselves.
MR Roofing was founded in 1994 by Melvin Petersheim in East Petersburg, Pennsylvania. Today it is owned by Leroy and Henry, two brothers who also own Stable Hollow Construction. Leroy and Henry purchased MR Roofing in 2010 when they realized the value and specialized skills the roofing contractor would bring to their existing construction and restoration company.
MR Roofing has experience in many facets of the construction industry, but is a specialist in standing seam copper, standing seam steel, cedar shake, and asphalt shingle roofs. Stable Hollow Construction renovates barns and other special structures as well as building new barns, garages, and commercial buildings.
Our crews love their job, and have good character and work ethic. Many of our customers get to know us on a first name basis while we work on their home. We love our jobs, and we want you to love your roof! The dedication and talent of our team has earned us the GAF Master Elite® contractor certification which allows us to offer you even more than many of the other roofers you can hire.
We know that having strangers on your property and noises pounding around overhead can be unsettling. We want to make your project as easy as possible for you. One way we do that is through professional communication throughout the project, so you know exactly what to expect.
Our mission is to restore and preserve your valuable assets by helping you get the best roof possible for your specific building project. Your roof is our reputation—and we work hard to make sure both your roof and our reputation stand the test of time.