Professional Metal Roofing Contractor - Malvern, PA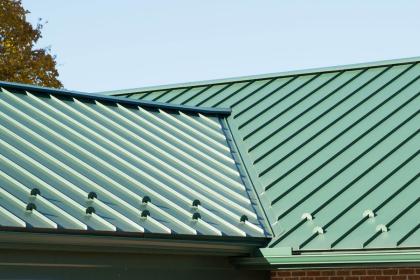 MR Roofing is an Amish owned, professional roofing company that has been serving Malvern, PA and its surrounding communities for over 25 years, working with home & business owners alike. We are industry leaders in standing seam metal roofing and corrugated metal roofing installations.
If you are in need of a metal roofing contractor for your Malvern, PA location we would be delighted to give you a no obligation quote. Should you choose to do business with us you can expect honesty, integrity, and respect to be displayed towards you, your property, and your neighbors at all times.
When driving through the countryside surrounding Malvern, one can't help but notice the stately homes of eastern Chester County. A mixture of newly constructed dwellings and gorgeous stone homes dating back to previous centuries, blend together to create a scenic masterpiece. 
What is it about these homes that catches your eye? There are several things that give a home a curb appeal: adequate landscaping, creative architecture, and an impressive roof. The roof of a home makes up a large percent of the visible surface area, therefore it factors heavily into the overall appearance of the home.
Homeowners and contractors looking to give a home additional curb appeal are opting for standing seam metal roofing. This has become increasingly popular for architectural applications because it's clean, straight lines & modern appearance give both new & old homes a WOW factor. One of the many attractive features of metal roofing is that it is available in custom colors if you need to match an existing roof or structure.
Looking for a long-lasting roof that adds beauty to your home? You need a metal roof!  MR Roofing is your local metal roofing contractor installing both commercial and residential metal roofing throughout the greater Chester County, Pennsylvania area.
Malvern, PA Metal Roofing Durability and Life Expectancy
Metal roofs are extremely durable and able to withstand severe weather conditions. Let's compare an asphalt shingle roof with a metal roof for a minute, you can take an asphalt shingle and tear it in half effortlessly with your bare hands, you won't tear metal roofing with your bare hands no matter how hard you try. Need I say more?
The life expectancy of a standing seam metal roof is upwards of 75 years with some lasting over one hundred years. If you are looking to purchase roofing once in your lifetime, then metal roofing is for you.
Low Maintenance Roofing
Let's face it, no one enjoys dragging out a ladder and climbing up on the roof to deal with a maintenance issue. If your home is nestled in a damp woodland area like those found west of Chesterbrook, we have good news for you. With metal roofing you won't have to, algae, fungus, and mold growing on it, neither will you deal with other maintenance issues common to some roofing materials. The only maintenance you need to plan for is a new coat of paint every thirty-five to forty years. If you take your age and add 40 years to it, you may discover having the roof repainted will not be your concern either.
Environmentally Friendly Roofing For Malvern, PA
Today Chester County residents are making "green" choices. Metal roofing is an environmentally friendly roofing option. Metal roofing can contain up to 60 percent recycled material and is 100 percent recyclable at the end of its life. Modern metal roofing systems can be easily integrated with solar panels. And, depending on where you live you may be eligible for state specific grants, local rebates or Solar Renewable Energy Credit benefits.
Return On Investment
Roofing can be costly, looking for an excellent return on investment? Metal roofing is at the top of the list.
The Metal Roofing Alliance states a metal roof can increase your home's value by as much as $1.35 per square foot.

Metal roofing can help you save as much as 25 percent on heating and cooling costs and up to 40 percent in summer cooling energy costs.

Metal roofs have a Class A fire rating, which can translate into a reduction on your homeowner's insurance rate.

Some Chester County residents may be eligible for certain federal, state and local tax credits.


 
A Roof to Match Your Historic Malvern, PA Building
Metal roofing is very versatile and can be used in almost any application. It can be used in agricultural, commercial, or residential settings. Not only does the metal look suit almost any building style, but the wide range of metal colors lets you match it to your building. Looking to match a colors on a historic restoration project? Metal roofing is available in custom colors to accommodate your need.
Standing Seam Metal Roof
In selecting a metal roof, you have two options.  Standing seam, and corrugated metal. If you choose standing seam, the fasteners will be concealed, leaving your roof with a clean, crisp look.  It takes longer to install, but it lasts longer as well.
There is a right and a wrong way to install standing seam.  You can be confident that as a premier metal roofing contractor MR Roofing will do it right. We do not compromise in the hemming of trims and edges.  Your roof will have a solid decking, not spaced purlins, and we install rope under all the panels. Standing seam also comes with a paint warranty, leaving you worry-free for many years.
Corrugated roofing panels
Does the price of a metal roof seem high? Cut your metal roof costs by purchasing corrugated roofing panels.  This type of metal roof has many of the same advantages as standing seam, and can be used for residential, agricultural, and commercial buildings. 
Using durable 29-gauge metal panels allows us to offer you a wide range of colors that will complement your existing siding or shutters.
Installing a new roof over the old one could save you money up front, but in the long run, heat can build up between the old and the new roof, and causes cracking at pressure points. You will be happier when we remove the old one to begin with.
Agricultural buildings don't require solid decks, but residential do, as we must install a vapor barrier.
Have Questions?
Our knowledgable sales staff would be delighted to answer your questions and/or walk you through the roofing process. We would be honored to have our team of metal roofing contractors install a roof at your Malvern, or greater Chester County location. Ready for a NO OBLIGATION quote? Click the link below.
Service Area - Malvern, PA & Greater Chester County
Serving Chester County, PA Including but not limited to: Berwyn, Birchrunville, Bucktown, Chesterbrook, Chester Springs, Coatesville, Devault, Downingtown, Eagle, Elverson, Exton, Frazer, Glenmoore, Honey Brook, Kennett Square, Kimberton, Knauertown, Lincoln University, Malvern, Oxford, Paoli, Phoenixville, Parkesburg, Pughtown, Spring City, St Peters, Warwick, West Chester, West Grove, and other Chester County, Pennsylvania locations.
Standing Seam Metal Roof Testimonial
We love our new standing seam metal roof. MR Roofing did an amazing job and the crew was great! They did all of our fascia, soffit, and gutters. We will absolutely be recommending them to anyone looking for a roofing company!
- Emilee Avery