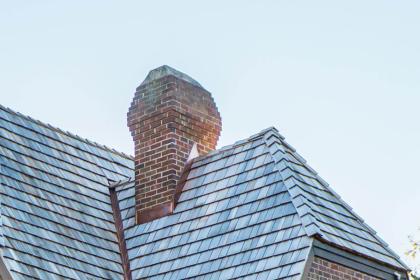 MR Roofing repairs chimneys only if we are also re-roofing.
All homes have roofs, but not all homes have chimneys these days. However, if your home has a chimney, it may require special attention.
If you need chimney repairs, give us a call or submit an inquiry through the contact form, and we will help you resolve your chimney problems so you can sleep in peace at night.
Does your roof leak around the chimney? That is a common problem, and we can take care of it for you. The source of the problem may be the chimney top. Sometimes moisture gets in behind the masonry, and drips down the chimney, coming out in the basement or in a ceiling.
We will replace the mortar between bricks if necessary. Any time we replace a roof, we give the chimney special attention to ensure it is leak-proof.
We replace chimney flashing with new step flashing and counterflashing (it's okay if you're not sure what this means, it just means we do it right). For cedar roofs we use copper flashing.
Schwenksville, PA
Keen eye on every detail.  Very respectful of me and my neighbors.  They showed their craftmanship every day, and MR should be happy to have hard working men like these!