Long Lasting Beauty is a Metal Roof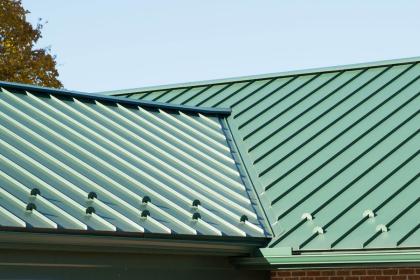 Looking for a long-lasting roof that adds beauty to your home? One that doesn't take lots of maintenance but is still good for the environment? You need a metal roof!  MR Roofing is your local metal roofing contractor installing both commercial and residential metal roofing throughout southeastern Pennsylvania and northern Maryland.
Metal Roof Durability and Maintenance
Metal roofs are extremely durable. Some have even been known to last over one hundred years. Does it require special maintenance to have such a long-lasting metal roof? No. The only maintenance you need to worry about is a new coat of paint every thirty-five to forty years. Mold and algae don't grow on metal leaving you with a worry-free roof for many years.
Environmentally Friendly and Economical
Metal roofing is an environmentally friendly roofing option. Metal roofing can contain up to 60 percent recycled material and is 100 percent recyclable at the end of its life. Modern metal roofing systems can be easily integrated with solar panels. And, depending on where you live you may be eligible for state specific grants, local rebates or Solar Renewable Energy Credit benefits. A new metal roof for your house can come with other perks for your wallet. Firstly, a metal roof can increase your home's value, a report from the Metal Roofing Alliance states, by as much as $1.35 per square foot. Metal roofing can help you save as much as 25 percent on heating and cooling costs and up to 40 percent in summer cooling energy costs. Plus, Metal roofs have a Class A fire rating, which can translate into a reduction on your homeowner's insurance rate.
A Roof to Match Your Building
Metal roofing is very versatile and can be used in almost any application. It can be used in agricultural, commercial, or residential settings. Not only does the metal look suit almost any building style, but the wide range of metal colors lets you match it to your building.
Standing Seam Metal Roof
Standing seam metal roofs conceal the fasteners leaving your roof with a clean, crisp look. 
There is a right and a wrong way to install standing seam.  You can be confident that as a premier metal roofing contractor MR Roofing will do it right. We do not compromise in the hemming of trims and edges.  Your roof will have a solid decking, not spaced purlins, and we install rope under all the panels. Standing seam also comes with a paint warranty, leaving you worry-free for many years.
Douglassville, PA
We love our new standing seam metal roof. MR Roofing did an amazing job and the crew was great! They did all of our fascia, soffit, and gutters. We will absolutely be recommending them to anyone looking for a roofing company!