Delaware County, PA Cedar Roofing Services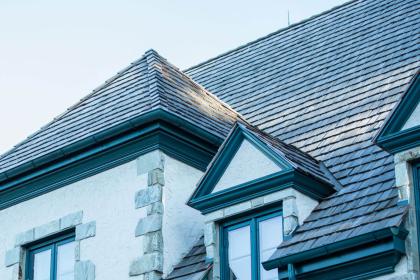 MR Roofing has been providing cedar roofing services to the Delaware County community for 28 years. That is almost 3 decades of cedar roof inspections, repairs, replacements, and new installations. It has been a pleasure to work for the residents of Newtown Square, Radnor, St. Davids, Wayne and a neighborhood near you.
We would be delighted to inspect your cedar shake roof for any signs of a potential failure in the near future. We recommend a roof inspection at regular intervals to assure optimum performance and longevity for your cedar roof. Why not call us today?
Delaware County, Pennsylvania has a population of close to 566,000 residents, which makes it the 5th most populous county in the state as well as the 3rd smallest. The county was formed on September 26, 1789 and got its name from the Delaware River which serves as its southern boundary. The county seat is centrally located in a town called Media.
The area has been known to experience a violent summer storm on occasion. The powerful winds from these storms can damage cedar shakes, causing them to leak. In the unfortunate event that your home's roof is damaged by a storm, our team of professional roofers are available to repair your roof quickly, preventing further damage to your home or its contents.
Cedar Shake Roof Inspections
What are cedar roofing maintenance inspections? Every three years from the installation of the roof, we inspect your cedar shingles for any signs of wear and tear decay. We'll send the report to you or the current homeowner so you know the exact condition of your roof. What if we see something amiss? We'll create an estimate for doing any cedar roof repairs or necessary maintenance and you can choose if you want to proceed with our recommendations. The great part is that the cedar roof maintenance and repair can be done either by MR Roofing or any other certified cedar roofing company. Keep in mind that these inspections only check for defects and they do not serve as a warranty. Rather these assist in extending the life of your wooden roof. Have questions about the cedar roofing inspection package? Contact our cedar shake specialists today!
Delaware County Pa, Cedar Shake Roof Installation
Are you looking for an upgrade from asphalt shingles? Cedar shingles otherwise known as cedar shakes offer a natural alternative that has a longer life expectancy than a traditional asphalt shingle roof. In addition to longevity, cedar shakes add natural beauty, are considerably more energy efficient, eco-friendly and age gracefully.
Cedar roofing installation is not a DIY friendly product and is best left to the experts. Here at MR Roofing our cedar roofing team largely consists of highly skilled Amish roofers, who exemplify impeccable craftsmanship. Every shake is properly positioned and secured to provide you a weather tight roof designed to last for decades. 
Felt is installed in between each piece of cedar to keep your roof dry, which extends the life of your roof. To further extend longevity with every wood roof, we include a regular roof inspection to keep your wooden roof lasting as long as possible.
Call us today for all your cedar roof repair or replacement needs in Broomall, Drexel Hill, Glen Mills, Garnet Valley, Havertown, or the greater Delaware County, Pa area.
Cedar Shake Roof Testimonial
I renovated a historic property on a golf course. MR Roofing completed a cedar shake roof along with a large copper standing metal seam roof, copper gutters, downspouts and copper accents.
Henry from MR Roofing and his team were true professionals and the best roofing company I have ever contracted with. Their guys came very early and worked happily and thoroughly to complete repairs and all new work. These gentlemen are true pros that are exceptional.
 - Joe Fabiani