Recover Your Lost Curb Appeal with a Cedar Shake Roof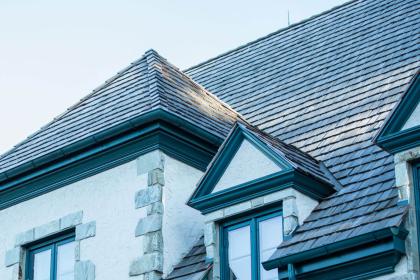 A roof should increase your home's curb appeal. Does your current roof catch your visitors' eye? Do you get that "Wow" factor every time you see your roof? No? You might need a cedar shake roof. Why choose a cedar wood roof?
Cedar shingle roofs add rustic beauty to any home. Their wood roof look is especially suited to older historical buildings that want to keep a traditional look - or for any newer building wishing to look older.
Cedar shakes also add uniqueness and individuality to a home. Western red cedar shakes are natural, and each is unique.  All your cedar shakes will be inspected, and any defective or odd-looking pieces thrown away.
Three Easy Steps to Cedar Roofing Help
You Contact Us

Reach out to our cedar team experts to discuss your project.

We Schedule an Inspection

Our cedar specialists inspect your project and estimate the best solution for your roof.

You Relax!

Count on our Amish cedar crew for impeccable workmanship. Our job isn't complete until you are delighted!
Cedar Shake Roof Inspections
What are cedar roofing maintenance inspections? Every three years from the installation of the roof, we inspect your cedar shingles for any signs of wear and tear decay. We'll send the report to you or the current homeowner so you know the exact condition of your roof. What if we see something amiss? We'll create an estimate for doing any cedar roof repairs or necessary maintenance and you can choose if you want to proceed with our recommendations. The great part is that the cedar roof maintenance and repair can be done either by MR Roofing or any other certified cedar roofing company. Keep in mind that these inspections only check for defects and they do not serve as a warranty. Rather these assist in extending the life of your wooden roof. Have questions about the cedar roofing inspection package? Contact our cedar shake specialists today!
Cedar Shake Roof Installation
Cedar roofing is one of our specialties. When you call the cedar roof experts at MR Roofing for your cedar roof replacement, you can count on our dedicated Amish cedar roofing crew to provide an excellent product installed with impeccable craftsmanship. Between each piece of cedar, we install felt, so your roof will remain dry. The drier it stays, the longer it lasts. With every wood roof, we include a regular roof inspection to keep your wooden roof lasting as long as possible.
Flourtown, PA
I renovated a historic property on a golf course. MR Roofing completed a cedar shake roof along with a large copper standing metal seam roof, copper gutters, downspouts and copper accents.
Henry from MR Roofing and his team were true professionals and the best roofing company I have ever contracted with. Their guys came very early and worked happily and thoroughly to complete repairs and all new work. These gentlemen are true pros that are exceptional.