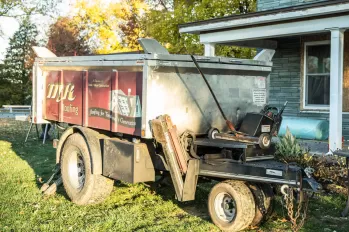 You may have never seen this contraption before, but we are proud of this roofer's buggy. You will love it, too, when you know what it means for you. You'll be happy to hear that we don't need to stomp around through your flowerbeds to clean up the old shingles we tore off your roof.
The Equipter roofer's buggy helps us keep your lawn and flower beds clean as we replace your old roof. It allows us to catch and contain debris and materials from the old roof so they don't clutter up your place.
This buggy is self-propelled, and with its wide tires, it leaves fewer tracks than if we needed to use a dump truck, trailer, or dumpster. And it increases our efficiency since we don't need to handle the debris twice.
The Equipter roofer's buggy is a winner for everyone—you'll enjoy watching it in action when we come to work at your place.