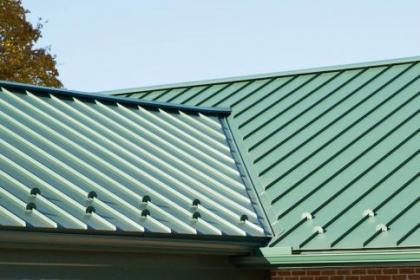 While metal roofing has many advantages, there are potential drawbacks to metal roofing as well. 
Cost: The upfront cost of a metal roof can be two or three times more than a standard asphalt roof. This initial cost can discourage some homeowners from choosing a metal roof, however consider all the factors before making that decision.

Longevity: Consider the life expectancy of an asphalt roof is 20-25 years, while a standing seam metal roof is 75 years or more. Which means it will take 3 or 4 asphalt roofs to reach the 75 year life expectancy of a metal roof. 





Take the cost of an asphalt roof and multiply it by 3 or 4 to get a comparison price in order to make an informed decision about purchasing asphalt versus metal roofing. Now we havent factored anything in for inflation, because that 2nd, 3rd, and 4th asphalt roof will cost considerably more than the 1st one did. Very quickly you can realize that while metal roof costs quite a bit more than asphalt up front, it is the economical choice long term.


 

Home Valuation: The Metal Roofing Alliance states their research shows that adding a metal roof to a home can increase the value of a home by as much as $1.35 per square foot. This means on average a higher selling price is being realized on homes with a metal roof.


 

Energy Savings: Metal roofing that is installed with adequate attic insulation and ventilation tends to return a savings of 25% on heating and 40% on summer cooling costs over an old asphalt roof system.





While the initial purchase price on metal roofing is more than asphalt, most homeowners find it to be a better return on investment over time.


 

Noise: The perception that metal roofing is noisier than other roofing types is partially true. Many of us have stood under a pavilion or a lean-to with a metal roof in a driving rainstorm, and listened to the steady drum beat of rain on the roof.



However in most home and business applications you have an insulation barrier and/or attic area that deadens the sound of rain on the roof. Unless you are putting roofing on a structure that has living space directly exposed to the underside of the metal roofing noise is a non issue. 


 
Color Selection: For many years metal roofing was available with a limited color palette, making it difficult to get a metal roof to match the colors of an existing structure. More recently metal roofing manufacturers addressed this challenge by offering a larger selection of standard colors as well as offering a custom color option to assure a perfect match.
 
Water Pooling: Steel metal roofing is designed for a roof with a pitch so the water drains off instead of pooling till evaporation. If you are looking for a roofing material for a flat roof, rubber is the best fit.



In the event that you want to use metal on a flat roof, you will want to use copper rather than steel. Copper is able to withstand water collecting into pools and remaining there until evaporation takes place.